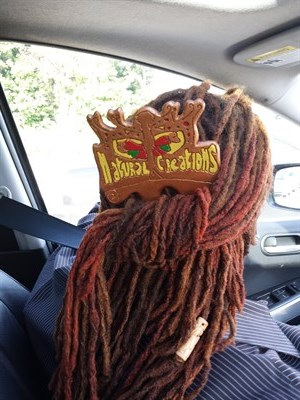 Loc Grooming & Maintenance
Palm rolled shoulder length 75.00
We provide several methods of Grooming your Locs,
In addition to unique, original Styles to follow. From monthly Loc grooming, Loc repair, Loc extensions, & creative styles, it's never a dull moment with Natural Creations.
Professional Styling for Locs
Custom LuvLoc Style 30.00
Loc Curl Set
pipe or felxi rod 40.00
We provide creativity and unique Loc styles for all lengths and textures of natural hair, focusing on hair care.
Medium to Large size 95.00
Small to Micro size 250.00
The process of starting locs is a very rewarding experience. Its a wonderful journey in which you will learn a lot about yourself and find your inner beauty. Starting locs can be difficult, tedious, and a frustrating transition; however, with proper professional maintenance and care the journey can be done with ease and style.
Medium shoulder length $1200
Small Shoulder Length $ 1400
Instant Locs extentions is a service we provide for those who would like locs without going through the "budding" phase in addition to adding length to their natural hair. We can add pre-made loc extentions to your exsisting locs, or we create custom locs with you natural hair.
Layer cuts 45.00
Trim 20.00
Creative hair cuts are available for locs to keep your locs even and trimmed.
Natural Creations Custom Cuts will help give your locs the uniqueness you've been looking for.
per loc 5.00
replace loc 10.00
In addition to unique, original Styles we offer Loc repair for damaged, thinning or missing Locs.
Return to Top
Service Policy
Natural Creations are now accepting appointments online only. If you have question about a service please call (404)441-4927 or email Luvlocs@naturalcreationsonline.com